What's on in Hawke's Bay
Find out what events are on in Hawke's Bay, Wairoa, Hastings, Central Hawke's Bay and Napier. If you need to know what's on this is the place to look. If you are after council meetings view our meetings calendar.
Does not include exhibitions or workshops. You can view these by selecting them on the menu to the left.
F.A.W.C! Sticky Fingers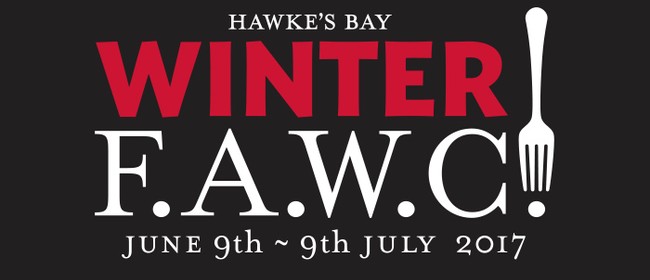 Mister D's Rolling Stones inspired rock 'n roll dinners are legendary.

Sticky Fingers was a classic Stones album and its famous cover artwork was conceived by Andy Warhol. Join the team at Mister D for a themed pop art night and an unforgettable " How Andy Warhol ate, it was complicated" night. David Griffiths will be fronting the kitchen and the live band "Three Shots to the Head" rocking out classic tracks from the Sticky Finger album. There are prizes up for grabs for the best dressed Andy Warhol costume or "ethereal muse".

Ticket includes and arrival - "Midnight Rambler" cocktail, sticky finger canapes, a three-course dinner and entertainment.

Venue and food images are courtesy of Meredith Lord.

F.A.W.C! is a delicious event series of "out of the box" food and wine experiences, set in stunning landscapes and locations throughout Hawke's Bay, New Zealand twice a year. Make your way to Hawke's Bay this June/July for Winter F.A.W.C! for five fabulous weekends of 'out of the box' food and wine events set in some of Hawke's Bay's most stunning locations. Hunker down with roaring fires, musical notes and endless lashings of local produce prepared in warming ways. Glasses of rich, full bodied reds will be taking centre stage as Hawke's Bay's food and wine heroes strut their stuff at over 60 events.
When
Sunday 11 June, 6:00pm to 11:00pm
Cost
Where
Mister D, Napier, Hawke's Bay / Gisborne
47 Tennyson Street, Napier, Hawke's Bay / Gisborne