What's on in Hawke's Bay
Find out what events are on in Hawke's Bay, Wairoa, Hastings, Central Hawke's Bay and Napier. If you need to know what's on this is the place to look. If you are after council meetings view our meetings calendar.
Does not include exhibitions or workshops. You can view these by selecting them on the menu to the left.
F.A.W.C! The Doppio Unveiling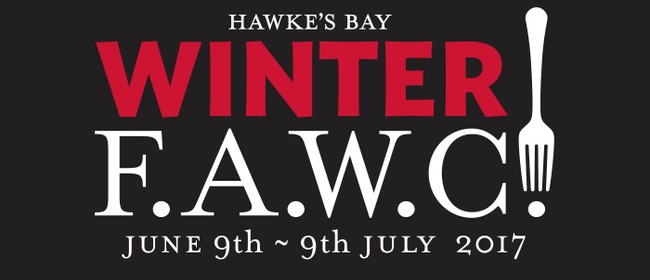 Get ready because there is a new super premium Syrah in town; Doppio from Ash Ridge Wines. This exciting evening is to launch and celebrate the first vintage (2014) of this new, exceptional wine. Starring alongside an amazing four course dinner from superhero chef Francky Godinho, it is a perfect pairing of exceptional food and wine. Doppio will be the main wine attraction with other Ash Ridge Wines on the menu.

Ticket price includes - four course dinner with wine matches.

F.A.W.C! is a delicious event series of "out of the box" food and wine experiences, set in stunning landscapes and locations throughout Hawke's Bay, New Zealand twice a year. Make your way to Hawke's Bay this June/July for Winter F.A.W.C! for five fabulous weekends of 'out of the box' food and wine events set in some of Hawke's Bay's most stunning locations. Hunker down with roaring fires, musical notes and endless lashings of local produce prepared in warming ways. Glasses of rich, full bodied reds will be taking centre stage as Hawke's Bay's food and wine heroes strut their stuff at over 60 events.

When
Friday 16 June, 6:30pm to 10:00pm
Cost
Where
St Georges Restaurant, Havelock North, Hawke's Bay / Gisborne
452 St Georges Road, Havelock North, Hawke's Bay / Gisborne