What's on in Hawke's Bay
Find out what events are on in Hawke's Bay, Wairoa, Hastings, Central Hawke's Bay and Napier. If you need to know what's on this is the place to look. If you are after council meetings view our meetings calendar.
Does not include exhibitions or workshops. You can view these by selecting them on the menu to the left.
F.A.W.C! Cheese – Under the Covers: SOLD OUT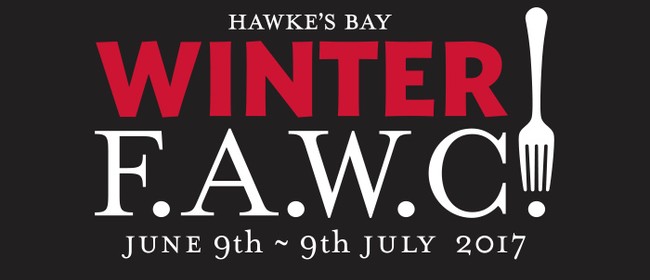 We all understand the journey from grape to a wine glass but have you ever wondered how something as simple as milk can be converted into thousands of big, tiny, mouldy, hard, voluptuous, blue or smelly cheeses? In fact, the character of a cheese is determined not by the cheesemaker but the raw materials - the grazing, the type and even breed of animal, the climate, the microclimate and finally the recipe – and how well the cheesemaker follows it! So if you want to know the inside story of cheese, learn to identify a cheese by its rind, dispel the myths of cheese and wine matching and become a cheese bore then join Juliet Harbutt, world expert and "Master of Cheese" and Black Barn's award winning wine maker David McKee for an inspirational dinner. It's a rare opportunity to enjoy two experts who have a great rapport as they talk you through 10 superb cheeses, 4 great Black Barn wines and what goes on under the rind of a cheese!

Ticket Price includes -10 cheeses and 4 glasses of wine.

F.A.W.C! is a delicious event series of "out of the box" food and wine experiences, set in stunning landscapes and locations throughout Hawke's Bay, New Zealand twice a year. Make your way to Hawke's Bay this June/July for Winter F.A.W.C! for five fabulous weekends of 'out of the box' food and wine events set in some of Hawke's Bay's most stunning locations. Hunker down with roaring fires, musical notes and endless lashings of local produce prepared in warming ways. Glasses of rich, full bodied reds will be taking centre stage as Hawke's Bay's food and wine heroes strut their stuff at over 60 events.

When
Friday 16 June, 7:00pm to 10:30pm
Cost
Where
Te Whare Kiwikiwi, Havelock North, Hawke's Bay / Gisborne
79 Black Barn Road, Havelock North, Hawke's Bay / Gisborne