What's on in Hawke's Bay
Find out what events are on in Hawke's Bay, Wairoa, Hastings, Central Hawke's Bay and Napier. If you need to know what's on this is the place to look. If you are after council meetings view our meetings calendar.
Does not include exhibitions or workshops. You can view these by selecting them on the menu to the left.
F.A.W.C! Talks in association with Forsyth Barr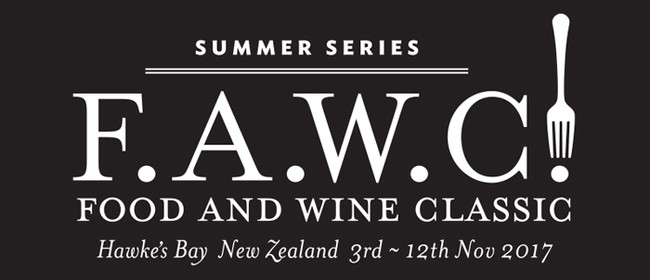 When it comes to talking about food, most foodies can wax lyrical for hours given half a chance. But for this fast-paced talkfest, our seven captivating speakers have just seven minutes each to regale the audience with their favourite food fable. The theme for all speakers "For the love of FOOD!..". Tough gig! Attendees can look forward to hearing from a range of local and national speakers, including John 'Mac' Macpherson from Advintage Wines, Adam Green from The Hits Hawke's Bay radio station, chefs Ray McVinnie and Nici Wickes, local culinary identity Henry Heke of My Kitchen Rules NZ fame, and winemaker Tony Bish.

F.A.W.C! Talks is presented in association with Forsyth Barr, a New Zealand owned firm providing a full range of investment services. Forsyth Barr has always sought to provide meaningful and relevant support back into New Zealand communities. With offices in both Napier and Hastings, Forsyth Barr are proud to support the Hawke's Bay community by partnering with F.A.W.C!

Disclosure Statements for Forsyth Barr Authorised Financial Advisers are available on request and free of charge.

F.A.W.C! Food and Wine Classic is the hottest festival on New Zealand's culinary calendar. We've turned the idea of traditional food festivals on their head by creating a series of events that are refreshingly different. With more than 75 delectable events over 10 glorious days, F.A.W.C! is a celebration of all things food and wine in Hawke's Bay. Life doesn't get better than this.
When
Saturday 4 November, 4:30pm to 5:30pm
Cost
Where
MTG Century Theatre, Napier, Hawke's Bay / Gisborne
9 Herschell Street, Napier, Hawke's Bay / Gisborne