What's on in Hawke's Bay
Find out what events are on in Hawke's Bay, Wairoa, Hastings, Central Hawke's Bay and Napier. If you need to know what's on this is the place to look. If you are after council meetings view our meetings calendar.
Does not include exhibitions or workshops. You can view these by selecting them on the menu to the left.
White Night
Free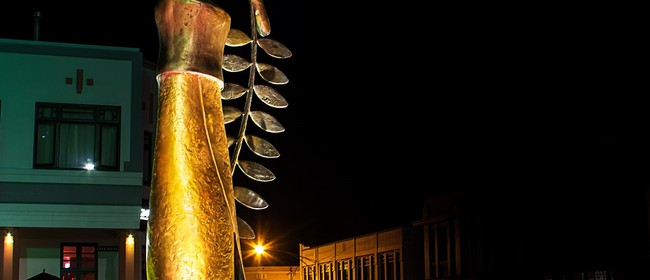 For one night only, Napier's art precinct will come to life with a series of exhibitions, live performance, interactive events and artists in residence.

Inspired by Nuit Blanche in Paris, White Night was conceived to make arts and culture accessible to everyone in the community. It offers a unique opportunity to engage with the arts in an open and accessible way, whether you're a first-time gallery goer or an arts connoisseur.

Gather friends and family from 7.00pm until late, as selected Napier venues open their doors and showcase the diversity of art and culture in our local community.

This is an event suitable for the whole family.

Venues:
Boyd-Dunlop Gallery; Creative Arts Napier; MTG Hawke's Bay; SPA_CE Gallery; Tennyson Gallery; The Department of Curiosities and Fine Things; The Pencil Room; The Rabbit Room; Viva Gallery; Wardini Books

Boyd-Dunlop Gallery:
A print exhibition of Creative Icons will be on display in the Boyd-Dunlop Gallery e.g. David Bowie, Grace Jones, Sid Vicious, Andy Warhol, Picasso.

Creative Arts Napier:
Interactive Art Installation in the CAN: White Light
'White Light' is an art installation designed and installed at CAN by Hawke's Bay artist Lisa Feyen; commissioned by Creative Arts Napier. Experience the magic of hundreds of illuminated paper boats, below a canopy of stars, white sails twisting from floor to ceiling.

Make your own paper boat to place alongside the others on the floor. Live Performance from The Lemons. Free entry; first drink free/ cash bar.

MTG
Splendour at the Museum:
Experience the splendour of the museum at night, with a pop-up bar serving wine and craft beer, art and live performance. Exhibitions include Freedom and Structure: Cubism and New Zealand Art 1930-1960, Jono Rotman: Ōmarunui and Brett Graham: He taonga te pai & he taonga te kino.
Free entry

SPA_CE
Tomb Raiders Bronwynne Cornish & Denys Watkins Sept 15 - Oct 13:
Bronwynne Cornish is one of New Zealand's best-known ceramic artists. SPA_CE will present work created in collaboration with her partner, painter Denys Watkins. Bronwynne returns to the region following her 2014 exhibition at the MTG - Mudlark.

Tennyson Gallery
Night time will bring Tennyson Gallery to life in an entirely new way, offering a unique way to experience the dynamic paintings of Anthony Chiappin, the stylish and functional design works of Hayden Maunsell, and the wider collection of art, objects and jewellery. This will also be an opportunity to see stunning contemporary New Zealand jewellery shown on live models.

The Department of Curiosities and Fine Things.
The Department of Curiosities and Fine Things will present a curated display of craft curiosities and quirky oddities. These specimens have been collected and preserved in jars and presentation cases and will be on display for the general public to stare in wonder and awe over. Think of it as the love-child of a Carnival Freak Show and a Natural History Museum who got busy in the art section of a craft store.

The Pencil Room
The Pencil Room is an educational art studio with a focus on fine art techniques and creativity. Come upstairs, relax, and add your own creative mark to a collaborative White Night artwork!

The Rabbit Room
"Life is a full circle, widening until it joins the circle motions of the infinite." Anais Nin.
Full Circle will be an exhibition of intricately hand-stitched drawings by Napier born artist Katherine Claypole exploring geometric pattern and circular formations. Full Circle will be in essence a homecoming exhibition for the artist.

Viva Gallery
It's Viva's Birthday Exhibition - One year ago we opened to a huge crowd in our new Hastings Street premises. Tonight we are featuring celebratory new work by our artists and we will all be present, in action making artwork and sharing our skills and enthusiasm for our favourite art media.

Wardini Books
The game is afoot. Piece together the clues hidden about the shop and interact with street urchins, villains, and a host of bizarre Steampunk characters to discover the Traitor and the Thief in this interactive Steampunk mystery.
When
Saturday 30 September, 7:00pm to 10:00pm
Cost
Restrictions: All Ages
Free
Where
Napier i-SITE, Napier, Hawke's Bay / Gisborne
100 Marine Parade, Napier, Hawke's Bay / Gisborne