What's on in Hawke's Bay
Find out what events are on in Hawke's Bay, Wairoa, Hastings, Central Hawke's Bay and Napier. If you need to know what's on this is the place to look. If you are after council meetings view our meetings calendar.
Does not include exhibitions or workshops. You can view these by selecting them on the menu to the left.
Loud Ghost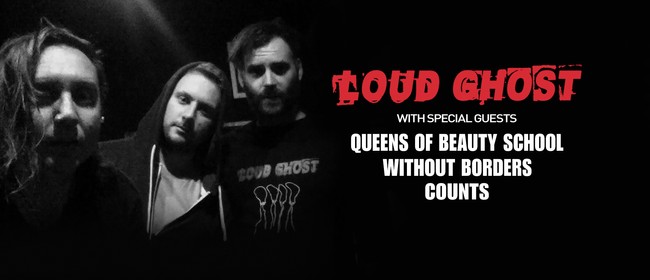 Alt rock band Loud Ghost visit the hospitable vista of the Paisley Stage, Napier after a 2017 hiatus.

With members of the band busy with other musical avenues it's been a long time between shows.

Loud ghost have been proud to support 'The Buzzcocks', 'Sebadoh', 'Grant Hart', (Husker Du) and Andrew Fagan's band 'Fagan and the People'. And are excited to join some of Napier and Auckland's finest, for an evening of Rock goodness.

Without Borders:
Without Borders are a three piece original Alternative Rock Band from Napier New Zealand. With members borrowed from the Progressive Metal Band 'Jakob'.

Queens Of Beauty School:
Queens of beauty school blend influences from noise rock, post punk and shoegaze genres.

Counts:
Auckland trio Counts is a whos whos of the have beens and the never weres. Members span from a range of past line ups. Here are some of their past projects.
When
Saturday 25 November, 8:00pm to 12:00am
Cost
Where
Paisley Stage, Napier, Hawke's Bay / Gisborne
17 Carlyle Street, Napier, Hawke's Bay / Gisborne