What's on in Hawke's Bay
Find out what events are on in Hawke's Bay, Wairoa, Hastings, Central Hawke's Bay and Napier. If you need to know what's on this is the place to look. If you are after council meetings view our meetings calendar.
Does not include exhibitions or workshops. You can view these by selecting them on the menu to the left.
F.A.W.C! Ribs, Wings & Lions Tales: SOLD OUT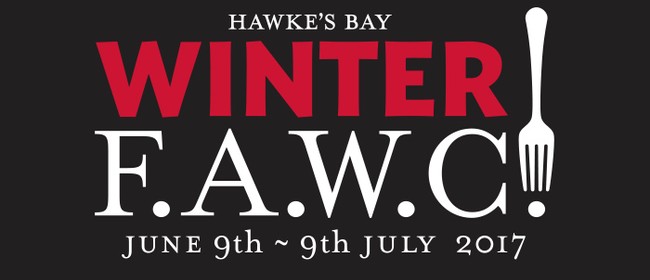 The Lions are coming and what better way to prepare than spending an evening with All Black and New Zealand Maori rugby legends Buck Shelford and Frano Botica. These two are ready to share their hilarious tales from their days in the black jersey and their tustles with those blokes from the British Isles. Arrive anytime from 5:30pm to mix and mingle with Buck and Frano before the boys start "dishing the dirt" at 7pm. Enjoy a low n slow American style BBQ dinner served up throughout the evening by another legend, Bareknuckle's Jimmy Macken.

Ticket price includes - Texas style BBQ pork ribs, Smoked Pulled Pork sliders, Bostock local organic Buffalo style chicken wings and fries served continually during the night. Included is 1 local Craft Beer from Zeelandt Brewery with bar specials available on local wines matched to the menu.

F.A.W.C! is a delicious event series of "out of the box" food and wine experiences, set in stunning landscapes and locations throughout Hawke's Bay, New Zealand twice a year. Make your way to Hawke's Bay this June/July for Winter F.A.W.C! for five fabulous weekends of 'out of the box' food and wine events set in some of Hawke's Bay's most stunning locations. Hunker down with roaring fires, musical notes and endless lashings of local produce prepared in warming ways. Glasses of rich, full bodied reds will be taking centre stage as Hawke's Bay's food and wine heroes strut their stuff at over 60 events.
When
Thursday 15 June, 5:00pm to 10:00pm
Cost
Where
Bareknuckle Yard, Hastings, Hawke's Bay / Gisborne
1091 Riverslea Road, Hastings, Hawke's Bay / Gisborne